The worlds of bpost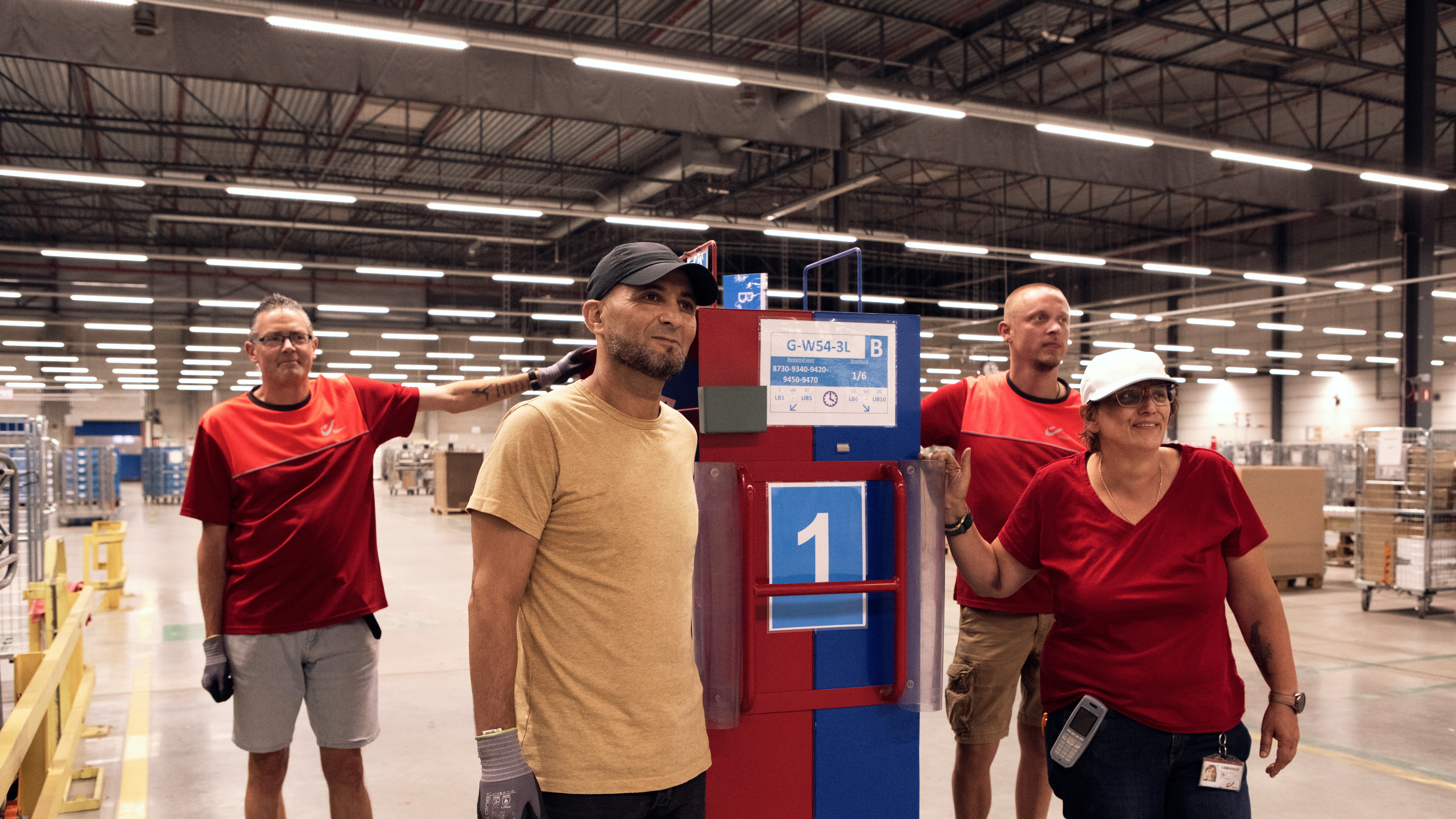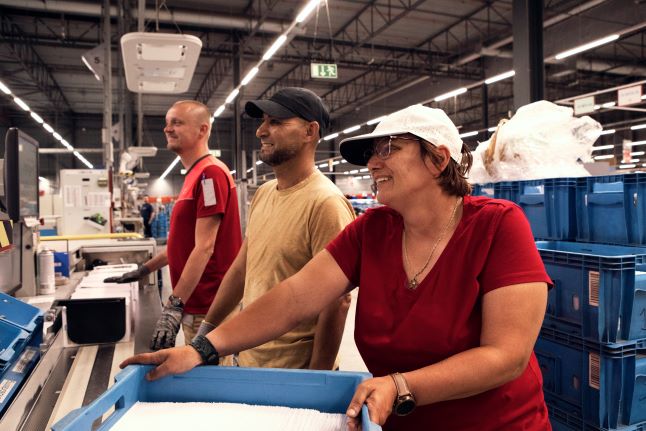 People to machines: Interview with a well-oiled LSM team
At the bpost sorting centre Ghent X in Wondelgem, we meet Natalie De Graeve and three members of her team. After a friendly introduction and a coffee in the sun, we sit down at a table to talk about people, machines ... and the things that make this team work so well.
Before we get started, can you tell us briefly who you are and what you do here?
Natalie De Graeve: "In the LSM zone, which stands for Letter Sorting Machine, we work at sorting the letters. This means we do the sorting for the different sectors in East and West Flanders, and from 8 o'clock in the evening we do general sorting. As team leader, it is my job to see that the shipments go out on time. And of course to ensure well-being on the work floor."
"Well-being at work is hugely emphasised here. It's logical: if people feel good, they work better."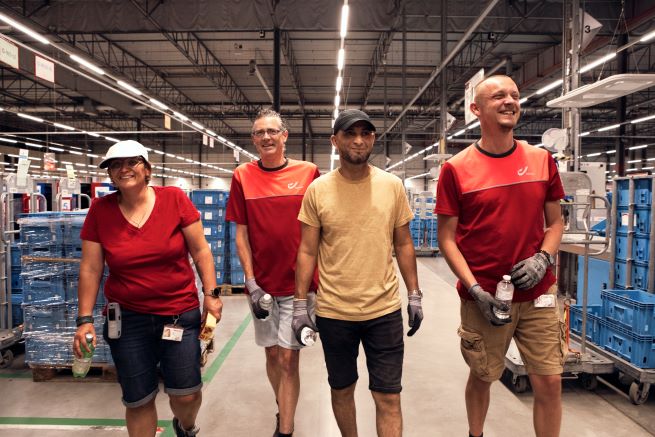 Jens Casteels is next in line: "Mostly I work as a 'set-up person': I take the shipments from the bins on the containers, and then place the letters on the machine ... But I also solve technical problems. And I replace Natalie or other colleagues when someone is ill or on holiday. So I'm pretty much the 'joker' here (laughs)."
Colleague Steve De Cloedt adds: "I am also a LSM operator: from 2 o'clock I sort the rounds, and from 8pm until 10pm, I do the general sorting of the priority shipments. I am the usual guy for that." Aissaoui Tahar also works as an operator: "First on the large and then on the smaller sorting machines. And from about a quarter to six, I do manual sorting."
Natalie, how did you end up in this position?
Natalie: "This year marks my 25th anniversary with bpost. I started at Taxipost, the former parcel service of bpost, and after a series of moves across numerous locations in East Flanders, I started here as a sorter on the night shift. Then I became a back-up team leader, and after a recruitment process 2.5 years ago became the official team leader at LSM." 
"They were more scared than I was, as I have a reputation for being 'strict'. But I'm not strict, I'm fair and I certainly don't ask for too much."
And do you still like the job?
Natalie: "It's a really nice place where people work well together. For example, not every machine works in the same way, so you have to help each other out so that things are done efficiently. For a long time, that was my motto on the info board: work together, work together! But I don't even have to say that now."
Tahar joins her: "The colleagues and team leader are really like a family: if there is a lot of work, we are there for each other (Jens and Steve nod affirmatively). And whether you've worked here for 1 year, 20 years or 30 years: everyone is equal!"
Tahar: "If you are new or have difficulties with the language, they also try to help you. When I started here, I only knew one word of Dutch!"
Natalie, this 'team spirit', is that your influence that creates it?
Natalie: "We're running the '100% respect' campaign at the moment and it's really alive and kicking here. And I know from experience: to get respect, you have to give respect. I have also invested a lot of time and energy in my team to gain their trust. Plus I have been a sorter myself for long enough, I have experience with logistics and warehouse work and logistics jobs ... So I know, if you do it right, it is fun to do! But you also have to give everyone the chance to learn: nobody is born a sorter at bpost.
"I think it's important that everyone comes to work with energy and enthusiasm. And that people have the right attitude, of course."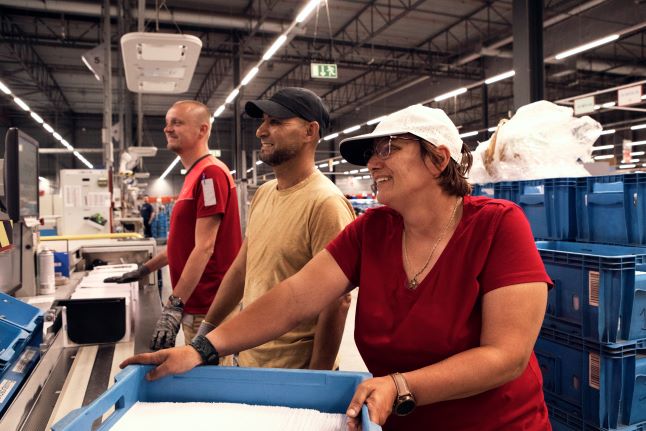 Natalie: "We see a lot of newcomers and job students working here, and they have to enjoy their time here. We take them with us when we have a break, and I make sure they move around a lot so they get to meet a lot of people. In turn, our colleagues can give them a bit of training. There are plenty of us here who are keen to do that and are perfectly capable of it. Jens, for example."
What profile do I need to be able to work in your team?
Natalie: "For our job vacancies no diploma is required, so in principle everyone could have a job here. The minimum I expect from people is that they understand a bit of Dutch, are motivated and eager to learn and above all – that they want to work."
Finally, what do you like most about the job?
Natalie: "As team leader you get a communication sheet and every day we have a briefing to go over these points. There is also the 'success of the day', for example, last Monday we put 1.4 million letters through the machine in one day! Or, that we haven't had a lost-time incident here in the last 2.5 years. These are all things that make me happy."
"But most importantly: the fact that I have such a top team makes me enjoy coming to work every day!"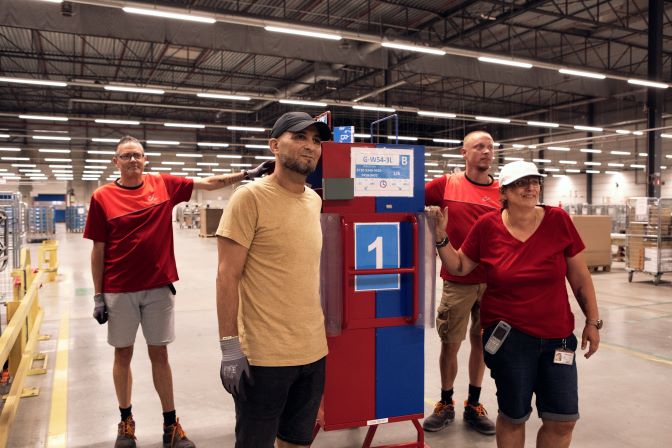 Then the results are automatically also good: every day we meet our targets and there is plenty of room for a chat, also about our private lives. After all, you spend a large part of your life here together. I don't even call it work anymore!
Or, as Steve sums it up: "The great atmosphere here makes all the difference: you never have the feeling that you are going to work with a heavy heart!"
Are you also keen to start working as a sorting centre employee? Take a look at our job offers >
Back