The worlds of bpost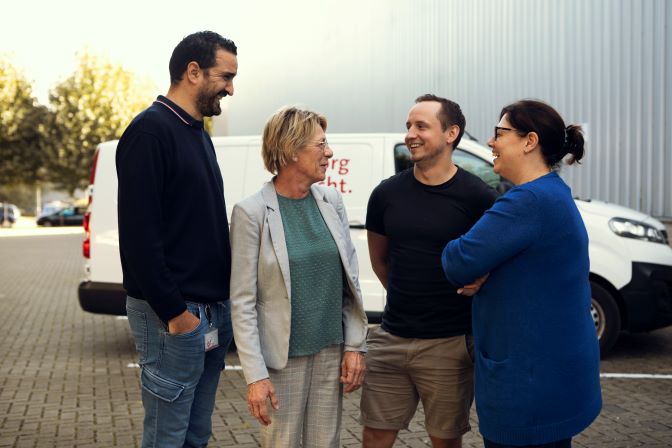 Mail Centre Manager Connie: "An extra sorter or parcel delivery driver at bpost is always welcome!"
For Mail Centre Manager Connie Van Tendeloo, the end of the year is the busiest time of the year. Fortunately, the more, the merrier. Because during the last weeks of the year, all help is welcome to process the avalanche of parcels and cards at the bpost distribution centre. We asked Connie how she managed such a thing.
Connie, what is your position here and how did you end up at bpost?
Connie Van Tendeloo: "I am Mail Centre Manager at Mail Centre Zaventem, which also includes the Kortenberg, Huldenberg, Hoeilaart and Overijse regions. In total, there are about 230 of us to handle our customers' mail and parcels from these buildings."
"After I graduated in 1988, I couldn't immediately find a suitable job, so I started working 'temporarily' at bpost as a postwoman. From there I took every advancement opportunity there was, and there are many at bpost! After becoming a postwoman, I then became a clerk. Later was put in charge of smaller post offices, and worked at the counters. Now I have been a mail centre manager for almost 3 years. In total, I have been working for this fascinating company for 34 years.
"My father worked at bpost and had brought along a form saying they were looking for 'early birds'. I applied to be a postwoman ... and liked the company so much that I stayed!"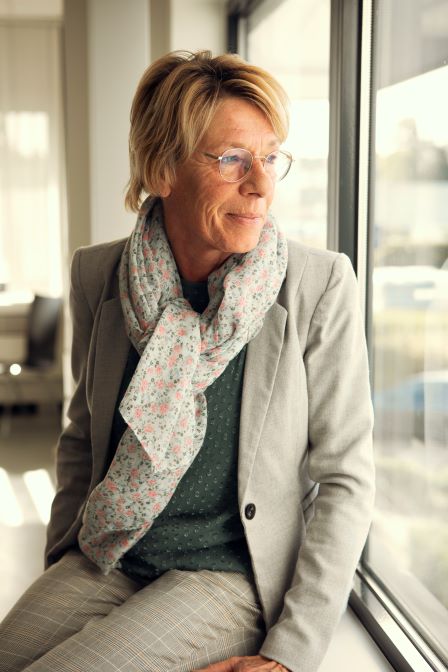 What does the end-of-year period look like for you guys?
Connie: "Especially busy (laughs). It actually starts for us and this for a few years around November 11, with Singles Day. After that there's Black Friday, Blue Monday ... In that period we have to start organizing ourselves differently, because we need a lot of extra people. To give you an idea: I estimate that in terms of volumes we will be 20% above the normal level, but it's really hard to say at this stage."
So all hands on deck. Are you glad that reinforcements are coming?
Connie: "Definitely! We are happy to use temporary workers and students for this. Of course, they receive proper training so that they can deliver quality work as quickly as possible. Within our mail centre, we even have a 'newcomer supervisor' who supports these newbies for quite some time, giving them extra tips and tricks."
"In addition, we ask our office staff to come and work with us in the field: last year we got 33 extra people that way, and this year 27 are coming. The first time, that was exciting. We had our doubts, because, after all, these people are not used to this work. And they were also somewhat insecure."
"Those temporary staff were thinking, 'Ooh, am I going to do that right?' But it really turned out to be a success story!"
And the permanent people in the field, how do they experience this period?
Connie: "Our permanent staff are aware that we are organized differently during this busy period and some flexibility is expected of them at times. At the same time, they know that they are not alone and that during this period we do everything we can to keep everyone's work-life balance under control as much as possible."
Does the end-of-year period create a special atmosphere? How do you personally experience it?
Connie: "For me, it's the best time of the year! There is a totally different atmosphere: it is busy and sometimes stressful, but everyone is in it together and the feeling of satisfaction prevails, like, 'Hehe, we did it again!'"
"But we also do everything we can to make it pleasant and bearable, and make sure everyone regularly gets a pat on the back. Last year, our CEO even came along for a day to deliver parcels for bpost, which everyone loved! We pamper everyone who helps out, both permanent and temporary employees."
"We've already had a French fries stand, a dessert stand ... And at the end of the year everyone also gets a little gift."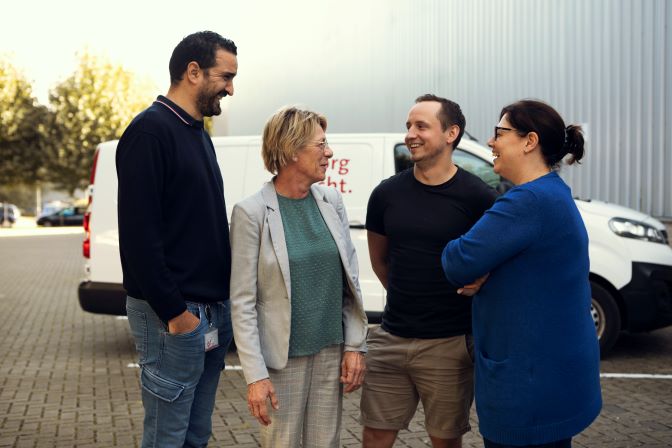 Do you notice that it is also a special time for customers?
Connie: "Yes indeed! I compare it to the corona period: especially during the Christmas vacations many people are at home and everyone is waiting for their parcels. Then you can also deliver it 'live' and see the appreciation. The same with the Christmas cards: everyone likes to get a Christmas card, haha."
Finally, would you like to say a word to those who are coming to assist you this year?
Connie: "To the people at bpost I would say: you will be part of a great team and receive all the support you need. And for the temporary workers: it is an ideal way to get acquainted with the job of parcel delivery driver at bpost, and you have a good chance of getting a permanent contract. But above all: everyone is welcome, because we can use all the help we can get. We're not "the biggest team in Belgium" for nothing!
Wondering what makes working at bpost so much fun? Read the story of Charlotte who started as a parcel delivery driver and now has a permanent contract as a postwoman.
Back